Your smile is one of the first things people notice about you. A healthy brighter smile can make you feel better about yourself and can even take years off your appearance.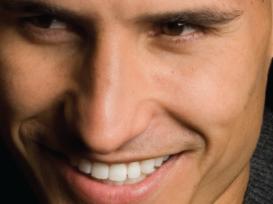 Your lifestyle and the aging process can stain and darken your teeth. Many things we do on a regular basis such as drinking coffee, tea, cola and red wine or smoking can contribute to stained teeth.
Whitening can get your smile looking its best again. Here at Bardon Smiles, we recommend take home whitening trays with the proven and trusted Opalescence formula.
It also can improve the cosmetic appearance of the teeth by restoring enamel luster to create a smoother, glossier appearance. Studies also show patients who use this system experienced less fade back to their original tooth colour after 6 months.
Here's some details about our professional teeth whitening process
During your diagnostic visit, your dental professional will take impressions of your teeth. This allows your dentist to make a custom gel-holding appliance called a whitening tray.
You will also be given specific instructions on how to administer the gel and how often to wear your tray.
Your whitening trays are usually ready to pick up within one week or often by the next business day if requested.
Follow the take-home directions and those of your dentist.
Continue to maintain proper oral hygiene through brushing and flossing.
A Note of Assurance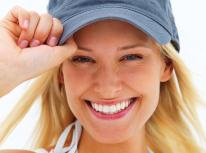 Tooth whitening is an established procedure in cosmetic dentistry. Carbamide Peroxide and Hydrogen Peroxide, the active whitening ingredients, have been used safely for many years in the treatment of gums and other oral soft tissue.
Using the Opalescence whitening formula means the whiter, brighter smile you dream of can be yours in just a few days. Schedule your appointment today!
Frequently Asked Questions on Whitening your Teeth
What is teeth whitening? Teeth whitening is a bleaching process that lightens the discoloured enamel and dentine in your teeth.
What causes these tooth discolourations? There are many causes of tooth discolouration. The most common are consumption of staining substances such as tea, coffee, cola drinks and red wine and smoking. Other causes are the natural yellowing of teeth due to ageing and the use of antibiotics or excessive fluoride consumption during tooth formation.
Is teeth whitening safe? Yes. Extensive research and clinical studies indicate that whitening teeth under the supervision of a dentist is safe. In fact, many dentists consider whitening the safest cosmetic dental procedure available.
Who may benefit from tooth whitening? Almost anyone may benefit from tooth whitening However, treatment may not be as effective for some as it is for others. Natural teeth with yellow or brown staining from aging, tobacco, dark cola, tea, coffee and red wine will achieve the greatest success with this procedure. Those patients with grey shading from tetracycline or other chemicals may experience less dramatic results. People with fluorosis stains and who are heavy grinders may not experience such good results.
How long will the results last? Your teeth will always be lighter than they were before and you may never need to repeat the procedure again. However, depending on the amount of tea, coffee etc you drink and if you smoke you may need to touch-up your teeth every 6-12 months.
What side-effects can I expect? The teeth may be sensitive to hot/cold while using the whitening products. This will cease upon completion of the treatment. The whitening gel may cause irritation or a burning sensation in the gums. This is why the custom-made trays are generally trimmed to cover only the teeth. If the gums appear white following gel application it is a sign that too much gel is being used causing the gel to come into contact with the gums so always follow the instructions provided with the whitening kits. This white appearance is a temporary and harmless side effect.
Will the whitening gel damage my restorations? No your fillings and crowns will not be damaged however sometimes amalgam restorations may leave a grey residue in the trays as the gel removes the surface stains off the fillings.